T1000S LED Controller Software & Information
---
Pixel LED Controller - T1000S
T-1000S Features:
32-256 grade Gray level
Support software Gamma correction
Support the rules and special-shaped handle
1 port output, can support 2048 lamp ls
SD Card control, offline control
The contents of the line control program are stored in the SD card
T-1000S can handle a maximum of 16 LED files
Files will be stored in the SD Card named as: 00_1.led, 01_1.led, 02_1.led
Compatible with single line or double line chips
No need to connect CLK line when using a single line LED fixture
NOTE:
The model T-1000S with one port output. When it runs up to 512 pixels, the speed can reach 30fps. If there are more than 512 pixels, the frame speed will automatically slow down.
T-1000S works with LedEdit software.
Images: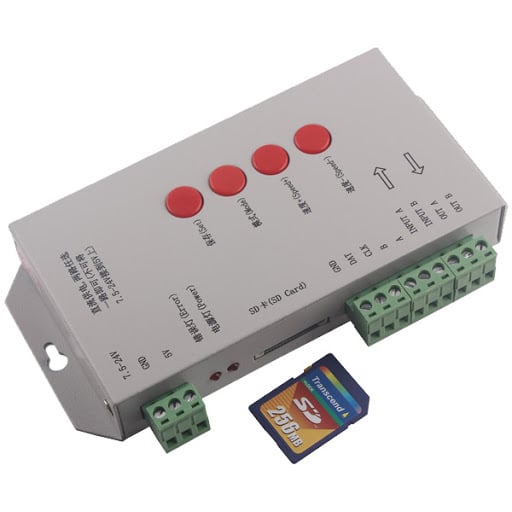 ---
T-1000S Software Pixel LED:
To create programs for your LED Controller, you will need LedEdit Software. Check the tutorial below to install and use the software.
T1000S PDF Manual:
For more information, please refer to the instruction manual you can download below.
Download T1000S PDF Manual